Awesome Home and Office Router ASUS RT-AC66U (Review), possibilities are unlimited with Asus RT-AC66U
Asus RT-AC 66U is probably the most robust SOHO router available in Nepalese market currently. Here we review awesome Home and Office Router ASUS RT-AC66U, and possibilities are unlimited with Asus RT-AC66U. Explore features of Asus networking advancement for home users or small office users with screenshots here.
ASUS RT-AC66U features
802.11ac Concurrent Dual-band AC1750. (450 Mbps/ 2.4GHz + 1300 Mbps/ 5GHz)
ASUS AiCloud unlimitedly access, streaming, and sync files everywhere with any devices.
4 x Gigabit Ethernet ports. 2 x USB 2.0 ports for fast file and printer sharing.
High Level Current Usage for superior download and gaming performance or multi client connections.
Provision for FTP access and application-specific bandwidth control.
Robust parental control features and network optimization options.
Wide range of traffic management (QoS) feature to ensure bandwidth operation.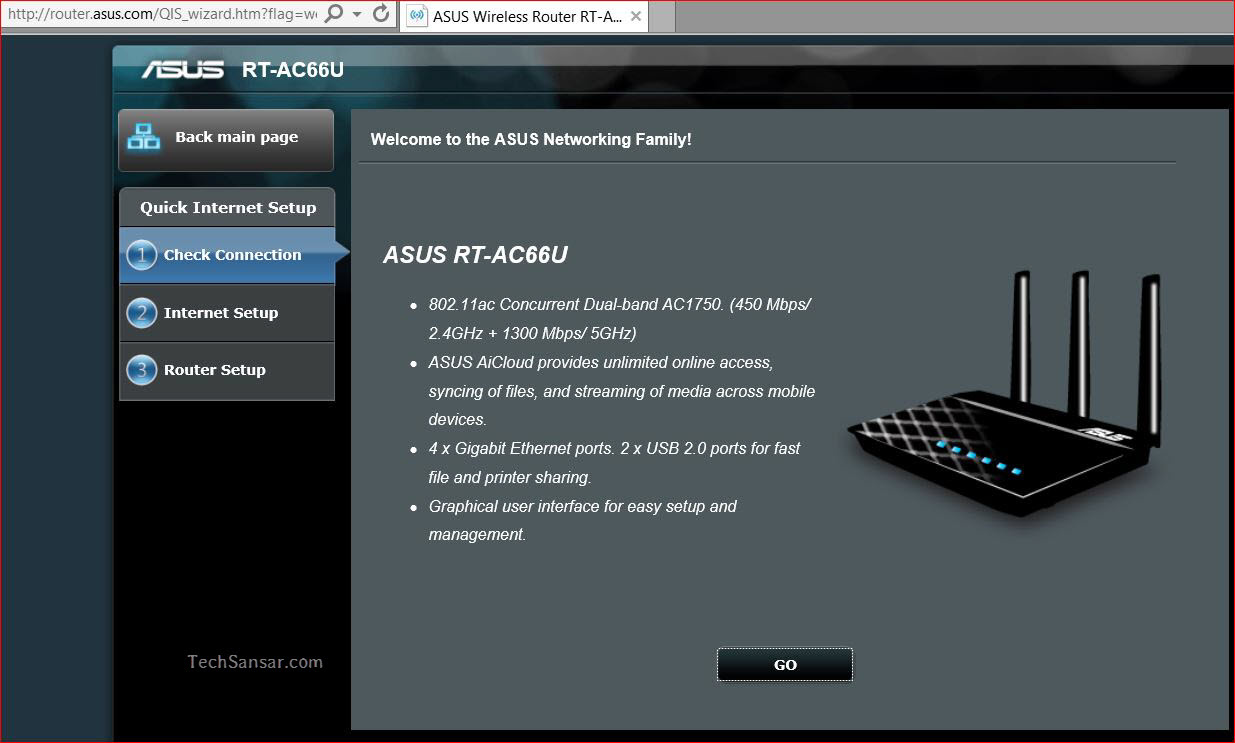 Asus RT-AC66U Set up
To set up Asus RT-AC66U is an easy job. Open the router's access page ie url 192.168.1.1 on your browser. For the first time, it will ask you to quick set up Internet just like in any Asus networking family devices.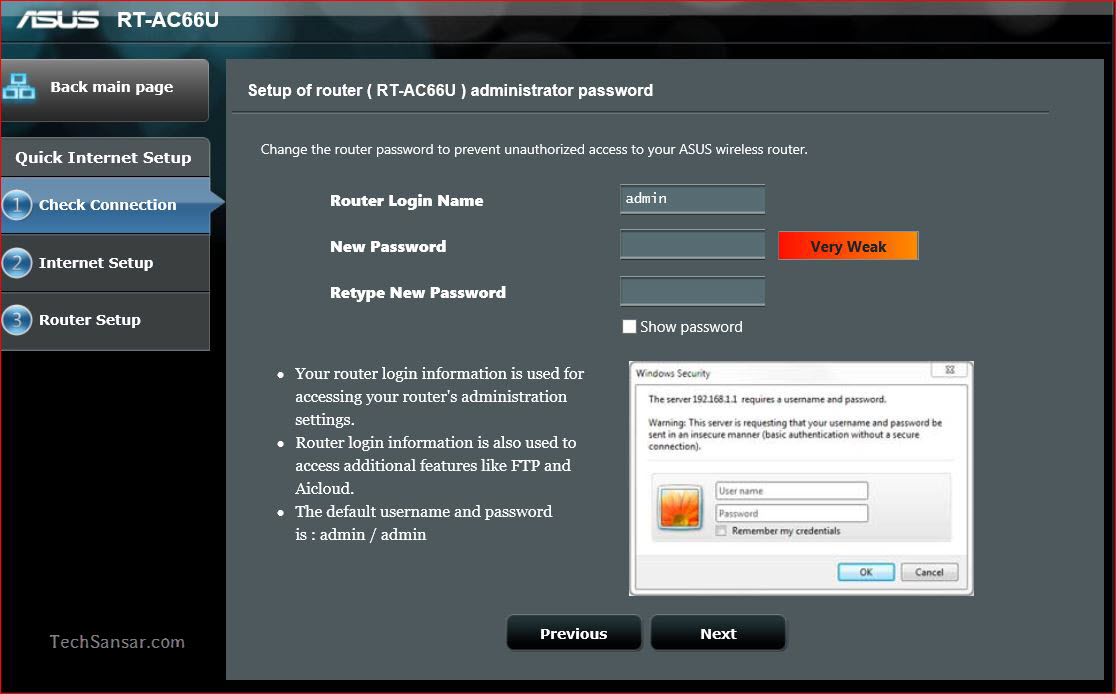 Check your Internet connection, setup Internet and finally setup the Router as per your need. Since Asus router has FTP feature ensure that the router login information is also used to access additional features like FTP and AiCloud.
The default Asus router username and password is admin/admin.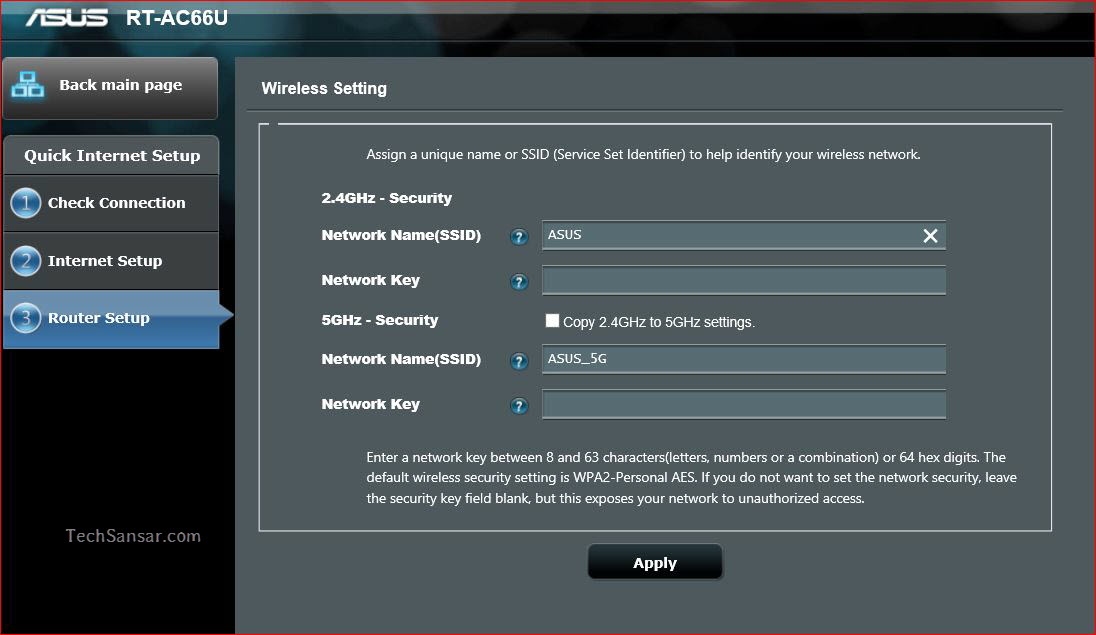 Since Asus router RT-AC66U works on both WiFi frequencies namely 2.4 GHz and 5 GHz you need to set up network name aka SSID for the both networks. Or you can simply copy 2.4GHz to 5GHz settings.
One optimized use can be; your older devices can connect to 2.4 GHz wireless network while the newer smart phones like Google Nexus, Pixels and iPhones can be connected to 5 GHz WiFi. This also helps you with WiFi isolation.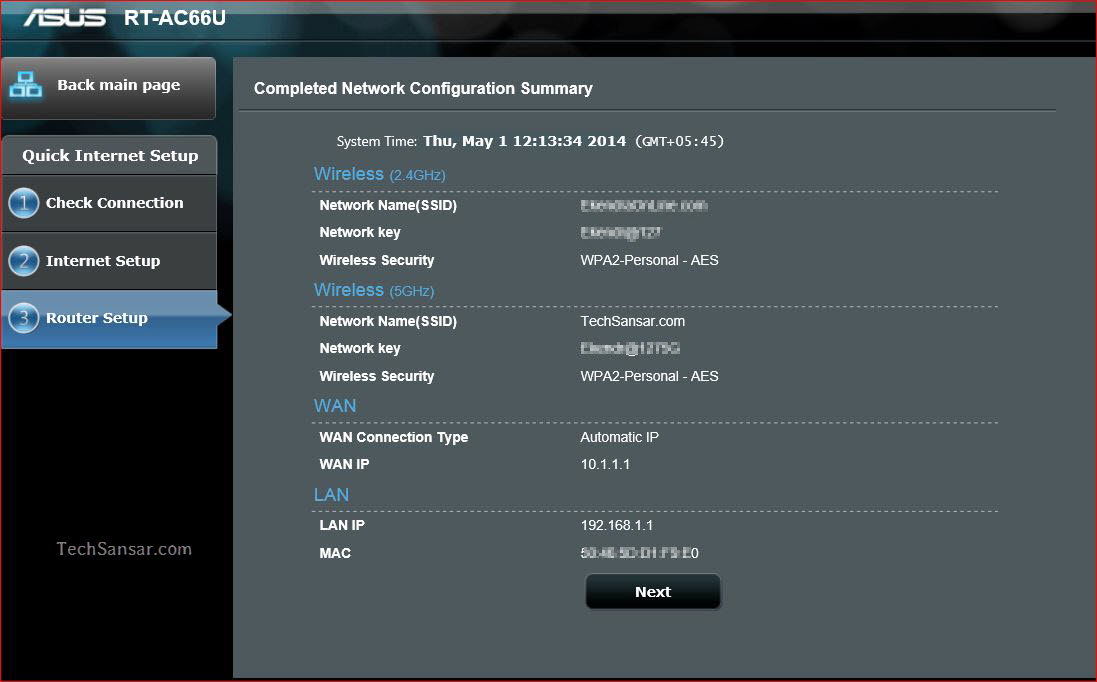 And other usage of having both 2.4 GHz and 5 GHz on a single router depend on your use and preferences – practice and you dig into Asus router's deep features.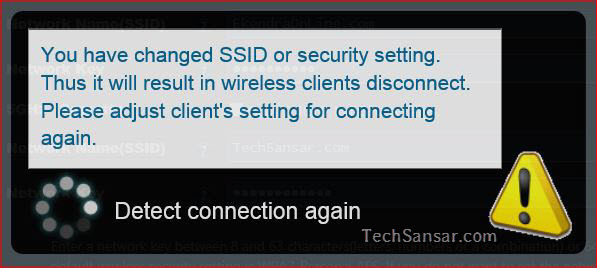 One disadvantage many would say is Asus RT-AC66U takes more than a minute to save and complete any activities plus reboot the device.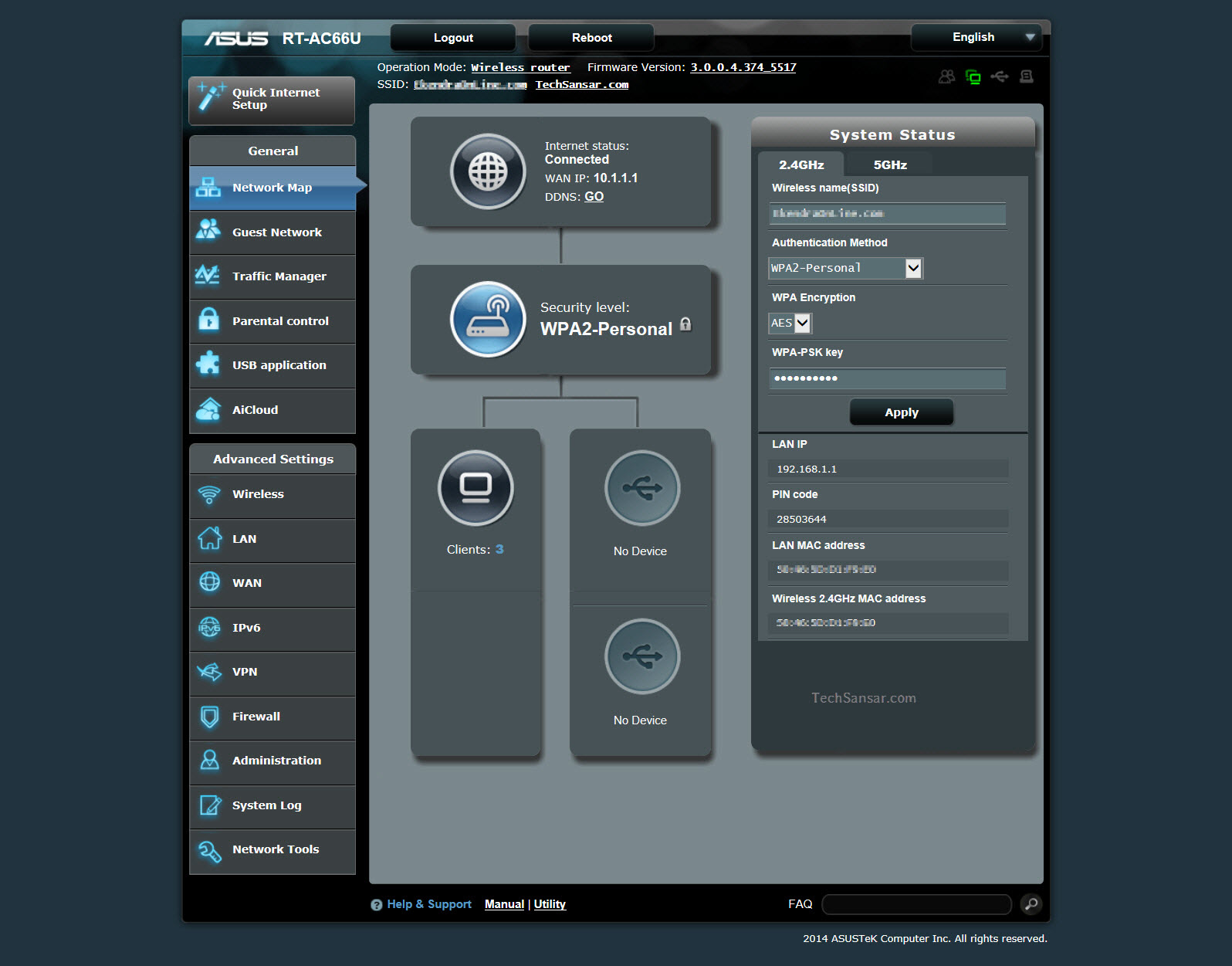 The dashboard of Asus RT-AC66U is awesome. Simple, effective and everything at a glance. Features to list include: Network map, Guest network, Traffic manager, Parental control, USB application and AiCloud.
The advanced settings include preferences for wireless networks, LAN, WAN, IPv6 settings, VPN user profiles, strong firewall options, administration of the device and network tools that would make any common user wwow.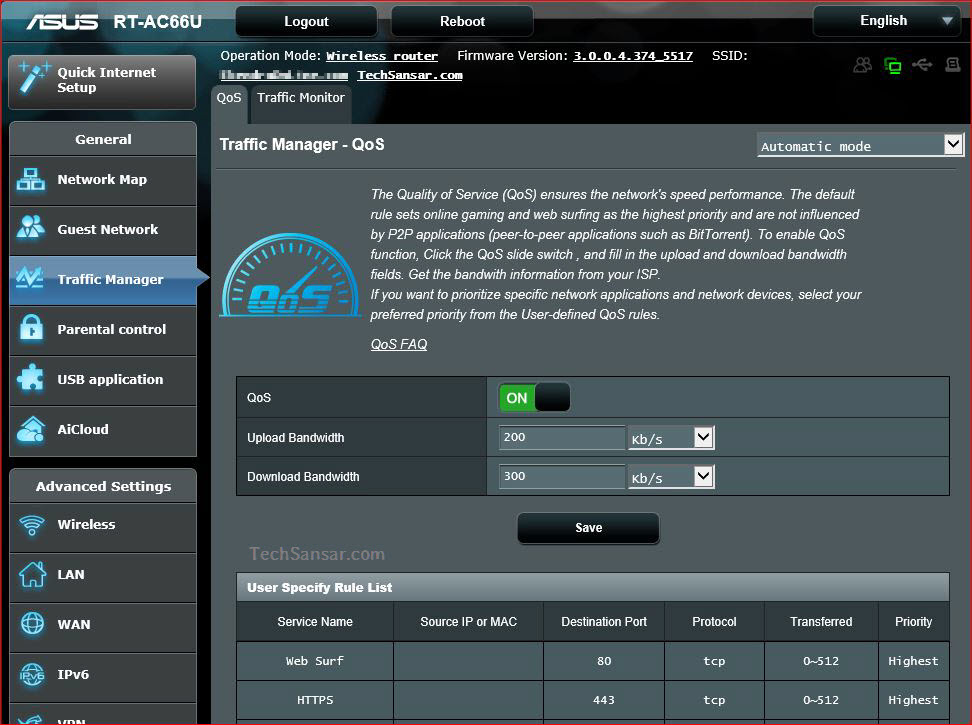 Traffic Management or QoS in Asus router is one praiseworthy feature among others. QoS ensures the network's speed performance. The default rule sets online gaming and web surfing as the highest priority and are not influenced by P2P applications (peer-to-peer applications such as BitTorrent.)
To enable QoS function, you need to operate the QoS switch and provide bandwidth information from ISP mainly for upload and download bandwidth. If you want to prioritize specific network applications and network devices, select your preferred priority from the User-defined QoS rules.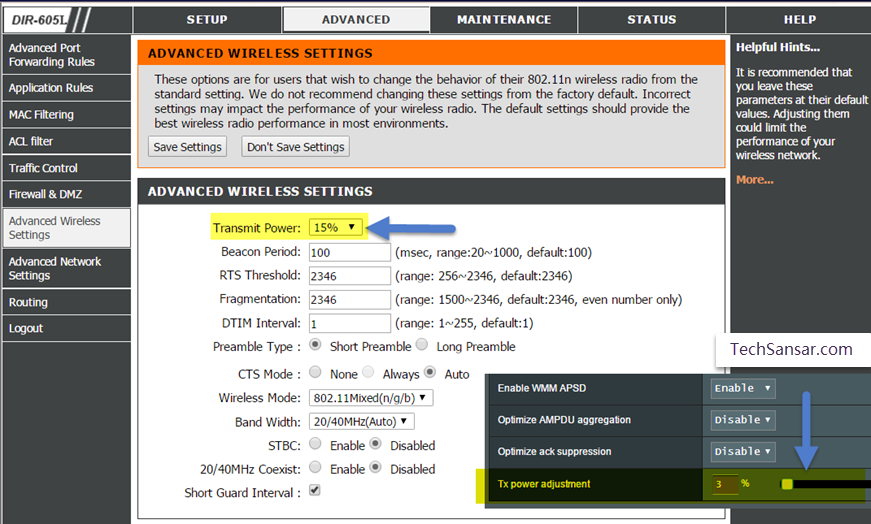 Another feature worth mentioning is advanced wireless settings where in Asus router's transmission power can be control from its full fledged 100% power with custom beacon period, STBC, wireless mode (a/b/g/n/ac or 802.11 mixed) and coexistence of 20/40 MHz in the wireless network.
In summary, Asus RT AC66U is a perfect router for both home users and small office users that provides any networking feature users might be searching in a high-end router.