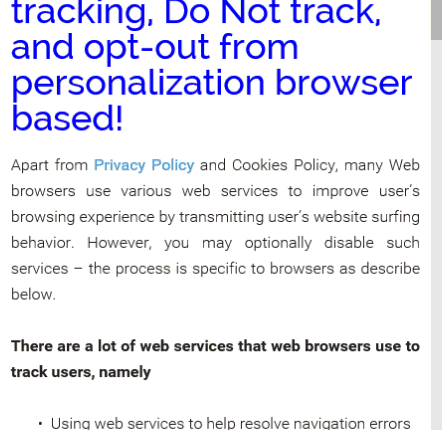 Website user behavior tracking, Do Not track, and opt-out from personalization browser based!
Apart from Privacy Policy and Cookies Policy, many Web browsers use various web services to improve user's browsing experience by transmitting user's website surfing behavior. However, you may optionally disable such services – the process is specific to browsers as describe below.
There are a lot of web services that web browsers use to track users, namely
Using web services to help resolve navigation errors
Using prediction service to help complete searches and URLs typed in the address bar or the app launcher search box in Google Chrome
Predicting network actions to improve page load performance
Automatically reporting details of possible security incidents to browser developers or authors
Enabling phishing and malware protection (this might be an essential feature!)
Using web services to help resolve spelling errors
Automatically sending web browser usage statistics and crash reports to the browser developers or authors
Sending a "Do Not Track" request with your browsing traffic (this might be a desired feature for many!)
Choosing proper privacy settings for your browser helps you surf websites without worrying about your behavior being tracked and opting out from personalization in ads and contents – however this can never be 100% sure.
Opt-out from Personalization & Do Not Track Settings
Many web services deliver personalized recommendations and advertisements to their readers based on their pas articles read, shared or interest shown in the ads. Personalization uses cookies technology to generate reading or suring history. Non-personalized contents can be preferred by opting out from tracking either by deleting or disabling cookies and selecting "Do Not Track" feature from your browser (Read: Google Chrome's Do Not Track policy).
Frequently Asked Questions on Do Not Track (DNT)
The web industry now takes Do Not Track (DNT) serious as this is directly related to user's right to be tracked for commercial purposed by the advertisers and other third party websites. The following FAQs on DNT is taken from Mozilla Firefox Web Browser – DNT – help page and other browser help pages.
Choose your web browser to learn how to turn on and off the privacy settings, cookies & DNT: