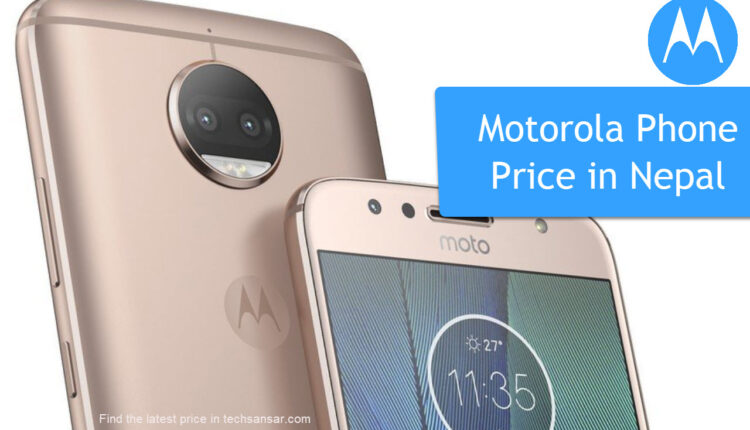 Price of Motorola Lenovo Phone Price in Nepal 2017
Motorola – a Lenovo Company – has finally entered into Nepal's mobile phone business officially. Motorola and Lenovo brand of smartphones in Nepal are authorized by distributor LifeCom Pvt Ltd, kathmandu. Official website of Motorola Nepal is motoralnepal.com. In this page, you can check the latest price of Motorola Lenovo Smartphones.
However, we are yet to see latest in series of Motorola smart phones like Motorola Moto Gs and Moto Gs5 premium phones.

| Samsung TV Model | Price in MRP | TV Type | Remarks |
| --- | --- | --- | --- |
| Samsung QLED TV QA55Q7FNARXHE (55 inch) | 375,000 | QLED Samsung TV | |
| Samsung QLED TV QA65Q7FNARXHE (65 inch) | 575,000 | QLED Samsung TV | |
| Samsung R Series UHD UA55RU7100RSHE (55 inch) | 114,990 | R Series UHD, 4K | |
| Samsung R Series UHD UA75RU7100RSHE (75 inch) | 450,990 | R Series UHD, 4K | |
| Samsung UHD TV UA43NU7100RSHE (43 inch) | 81,990 | UHD, 4K | |
| Samsung UHD TV UA49NU7100RSHE (49 inch) | 99,990 | UHD, 4K | |
| Samsung UHD TV UA55NU7100RSHE (55 inch) | 112,590 | UHD, 4K | |
| Samsung UHD TV UA65NU7100RSHE (65 inch) | 199,990 | UHD, 4K | |
| Samsung FHD TV UA43N5300ARSHE (43 inch) | 57,500 | FHD | |
| Samsung FHD TV UA49N5300ARSHE (49 inch) | 84,990 | FHD | |
| Samsung TV UA32N4003RSHE (32 inch) | 39,500 | LED | |
| Samsung TV UA32N400ARSHE (32 inch) | 28,990 | LED | |
| Samsung QA65Q8CAMRLHE (65 inch) | 650,000 | QLED Samsung TV | Festive offer with free Galaxy S8+ |
| Samsung QA55Q7FAMRLHE (55 inch) | 450,000 | QLED Samsung TV | Festive offer with free Galaxy S8 |
| Samsung TV 55KS9000 (55 inch) | 377,100 | SUHD TV | |
| Samsung TV 50MU6100 (50 inch) | 142,391 | UHD TV | |
| Samsung TV 43MU6100 (43 inch) | 84,992 | UHD TV | |
| Samsung TV 48HU8500 (48 inch) | 223,993 | UHD TV | |
| Samsung TV 50KU6000 (50 inch) | 142,391 | UHD TV | |
| Samsung TV 55K6300 (55 inch) | 193,491 | Curved TV | |
| Samsung TV 55M6300 (55 inch) | 193,491 | Curved TV | |
| Samsung TV 49M6300 (49 inch) | 124,492 | Curved TV | |
| Samsung TV 55M5500 (55 inch) | 152,992 | FHD Joy Smart TV | |
| Samsung TV 49K5300 (49 inch) | 101,191 | FHD Joy Smart TV | |
| Samsung TV 43K5300 (43 inch) | 67,192 | FHD Joy Smart TV | |
| Samsung TV 43M5100 (43 inch) | 68,841 | FHD | |
| Samsung 24H4003 | 27,990 | LED TV | |
| Samsung 23H4003 | 24,890 | LED TV | 23" LED TV with cash back offer from Him Electronics |
| Samsung 24H4100 | 29,190 | LED TV | |
| Samsung 28H4100 | 37,990 | LED TV | |
| Samsung 32F4100 | 44,890 | LED TV | |
| Samsung 32EH4003 | 38,890 | LED TV | |
| Samsung 32H4100 | 46,890 | LED TV | |
| Samsung 40H5100 | 71,490 | LED TV | |
| Samsung 40H5100 | 74,890 | LED TV | |
| Samsung 46F5100 | 114,990 | LED TV | |
| Samsung 48H5100 | 120,890 | LED TV | 48" LED TV from Samsung |
| Samsung 32H4500 | 53,890 | LED SMART TV | Smart TVs have Samsung's (Android) modified OS to run (Web) Apps |
| Samsung 40H5500 | 87,890 | LED SMART TV | |
| Samsung 32F6400 | 69,890 | 3D SMART TV | |
| Samsung 40F6400 | 108,890 | 3D SMART TV | |
| Samsung 46F6400 | 139,990 | 3D SMART TV | |
| Samsung 48H6400 | 149,990 | 3D SMART TV | |
| Samsung 55H6400 | 203,990 | 3D SMART TV | |
| Samsung 75ES9000 | 885,000 | 3D SMART TV | Actual MRP 11 lakh, 75″ LED Smart TV |
| Samsung 40HU7000 | 176,890 | UHD TV | UHD TVs support 4K videos |
| Samsung 55HU7000 | 302,890 | UHD TV | |
| Samsung 48HU8500 | 288,890 | UHD TV | |
| Samsung 55F9000 | 530,990 | UHD TV | |
| Samsung 65F9000 | 670,990 | UHD TV | |
| Samsung 48H8000 | 258,890 | CURVED TV | |
| Samsung 55H8000 | 319,890 | CURVED TV | |
| Samsung 65H8000 | 518,890 | CURVED TV | |
| Samsung 65HU9000 | 715,890 | CURVED UHD TV | Samsung's super smart Ultra HD TV supporting 4K videos |