Price of Latest Dell Laptops in Nepal
Learn the latest models of Dell laptops, ultra books, hybrids, convertibles (Windows 8.1 & 10 Machines) in Nepal and their respective price. Almost all Dell laptops (usually Dell Inspiron series) comes with 2 years of Warranty, do not forget to claim yours at Neoteric Nepal's stores.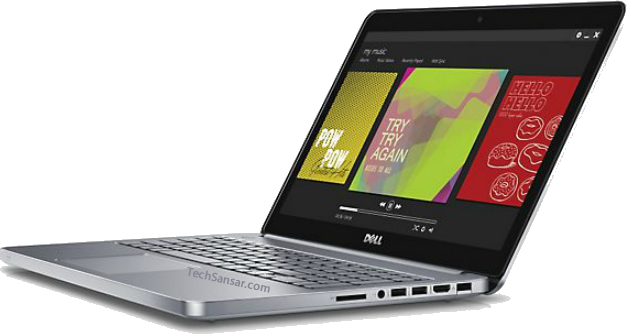 Updated: Get the latest price list of Laptops, Mobile Phones & other Gadgets in Nepal.
Dell Laptop Models & Price in Nepal
Last Updated May 7, 2016. Prices are informative, please consult authorized dealers for the confirmed the price, existing offers & purchasing these Dell laptop models in Nepal. The items listed first on the table are the latest updates, items on the lower end are the old ones with price not updated.
| Dell Laptop Model | Price in Rs (MRP) | Remarks |
| --- | --- | --- |
| Dell Inspiron 5559 | 99,900 | Intel Core i5, 8 GB RAM, 1 TB HDD, AMD Graphics 4 GB, Windows 10, 2 years warranty |
| Dell Inspiron 3458 | 42,490 | Intel Core i3, 4GB RAM, 500 GB HDD |
| Dell Inspiron 3443 | 58,990 | Intel Core i5, 4GB, 500 GB HDD, Nvidia 2 GB Graphics |
| Dell Inspiron 7537 | 91,490 | Intel Core i5, 6 GB RAM, 750 GB HDD, Touch Screen |
| Dell Vostro 5459 | 1,08,990 | Intel Core i7, 8 GB RAM, 1 TB HDD, Nvidia 4 GB Graphics, 2 years warranty |
| Dell Inspiron 3459 DESKTOP AIO | 87,490 | All-in-One (AIO) PC with Intel Core i5 processor, 4GB of RAM and 1 TB HDD |
| Dell IN 3421 | 54,545 | Pentium Dual core, 4GB/500GB |
| Dell IN 3442 | 53,133 | Core i3, 2GB, 500GB, UBT |
| Dell Latitude 7000 Series | 135,000 | Dell Latitude E7240 ULTRABOOK Core™ i7-4600U 2.1GHz 256GB SSD 8GB 12.5" (1366x768) BT WIN8.1 Pro Webcam Backlit Keyboard 3-year warranty |
| BONSAI Inspiron 3137 | 73580 | |
| HADLEY Inspiron 7437 | 84660 | |
| HADLEY Inspiron 7537 | 115900 | Intel Core i7 |
| HADLEY Inspiron 7537 | 105110 | Intel Core i5 |
| OAK VALUE Inspiron 3521 | 73580 | Intel Core i5 |
| OAK VALUE Inspiron 3421 | 52275 | Intel Core i3 |
| ULTRABOOK Inspiron 5423 | 68185 | Intel Core i3 |
| ULTRABOOK Inspiron 5423 | 81250 | Intel Core i5 |
| OAK MAINSTREAM Inspiron 5521 | 70740 | Intel Core i5 |
| OAK MAINSTREAM Inspiron 5521 | 76700 | Intel Core i7 |
Dell Commercial and Consumer Partner in Nepal as presented by Generation Next Communications (Dell Concept Store)
1. Inspiron 14 7000 Series Touch
4th Generation Intel Core, i5 Processor, Windows 8.1, 6GB Memory, 500GB Hard Drive
2. Inspiron 11 3237
Processor: 4th Generation Intel Core i3-4010U processor, Windows 8 Pro 64 bit, 2GB Memory, video card, Intel HD 4400 Graphics MD Radeon HD 8850M
Display: 15.6″ HD 1355×768, 16.9, touchscreen with Truelife Drive, 500GB 5400 RPM Hard Drive
3. M115HD Mobile Projector
Packet-sized but powerful, small but mighty, ultra-mobile projection, wide variety of connectivity options, palm sized projection, intuitive menu buttons, focus tab and digital zoom, grab-and-go functionality
4. Dell Latitude 10 Tablet
World-class security, Intel Platform Trust Technology for Trusted, Platform module (TPM 1.2)/1, Multi-touch HD display, reinforced magnesium alloy frame and Corning Gorilla Glass, 10-hours battery life, Optimized touch experience of Windows 8 Pro, Office and Home student 2013
5. Dell PowerEdge Server
Quad Pack LED, compact chasis, DDR3 memory, Intel Xenon Processor E3 product family, SATA port option
6. OptiPlex 3020 Desktop
4th Generation Intel Core i3-4010U processor, Windows 8 Pro, 4GB RAM 500GB HDD, 46.99cm (18.5), 3-year next business day on-site service