We are trying to provide everything about Nepal Earthquake 2015 in this single page from official rescue and relief support numbers to social network coverage that people are engaged in. Here you will find information on how to rescue, volunteer, donate and support the victims and administration with your effort.
[Page last updated: NST 1659 April 29, 2015]
Nepal Earthquake official rescue & relief support phone numbers
Use the following official telephone numbers to ask for supplies, rescue equipments and relief inquiries.
Nepal Police, Armed Force & Army contacts
Organization
Location
Telephone number(s)
Remarks
Government hotline
1234
Open 24u00d77, nAsk Food, Water, Tents & Blood
Ministry of Home Affairs
Singha Durbar, Kathmandu
014200258
014200105n014200203
Nepal Police
Hotline
100
9851281363
9851138181
Report unfair rates of vehicles & shops
Nepal Traffic Police
103
Report unfair rates of vehicles & shops
Nepal Police
Hotline
113
Nepal Police
Hotline
1113
Open for earthquake rescue & info
Nepal Police Headquarters
Naxal, Kathmandu
014412780
Nepal Armed Police Force
Hotline
1114
Open for earthquake rescue & info
Nepal Police Emergency
Kathmandu
014228435
014226853
Metropolitan Police Range
Kathmandu
014261945
014261790
Metropolitan Police Range
Lalitpur
015521207
Metropolitan Police Range
Bhaktapur
016614821
Tourist Police
Bhrikuti Mandap, Kathmandu
014226359
014226403
Fire Brigade
101
Hospitals, Medical Clinics & Ambulance service in Kathmandu
Organization
Location
Telephone number(s)
Remarks
Ambulance
Bishal Bazaar
014244121
Ambulance
Nepal Chamber of Commerce
014230213
014222890
Ambulance
Paropakar
014251614
014260869
Ambulance
Red Cross
014228094
Ambulance
Bhagawan Mahavir Jain Niketan
014418619
014422280
Bir Hospital
Kathmandu
014223807
014221988
Patan Hospital
Lagankhel, Lalitpur
015522278
015522266
Teaching Hospital
Maharajgunj, Kathmandu
014412404
014412505
B & B Hospital
Gwarko, Lalitpur
015533206
Teku Hospital
Teku, Kathmandu
014253396
Ambulance
Agrawal Sewa Centre
014424875
Bhaktapur Hospital
Bhaktapur
016610676
Miteri Hospital
014280555
014222305
Capital Hospital
014244022
Shree Satya Sai Centre
014244022
Bhaktapur Redcross
Bhaktapur
016612266
National Kidney Centre
014429866
014426016
Fire Brigade
101
This number is valid thru out the country
Blood Bank
014225344
Life Care Hospital
014227735
Martyr Gangalal National Heart Centre
014371322
014371374
Kidney hospital
Norvic Hospital
Thapathali, Kathmandu
014258554
Hospital and Research Centre
014476225
Kantipur Hospital, New Baneshwor
New Baneshwor, Kathmandu
014498757
Kantipur Dental Hospital, Maharajgunj
Maharajgunj, Kathmandu
014371603
Nepal Medical College (Teaching Hospital - Jorpati)
Jorpati, Kathmandu
014486008
Kathmandu Medical College (Teaching Hospital - Sinamangal)
Sinamangal, Kathmandu
014476152
Nepal Orthopaedic Hospital
014493725
Medicare National Hospital - Ambulance
014467067
Medicare National Hospital
014467067
For information on relief shelter: 
SANO GAUCHARAN in Kathmandu, contact Madhav Prasad Regmi:  9841068328

NARAYANCHOWR in Kathmandu, contact Shridhar Gautam 9851095200 or Narbhadur Rajwar 9841339292
BALAMBU in Kathmandu, contact Lok Darshan Regmi on 98415555741
RASUWA contact CDO Uddav Bhattarai 9851277777 Surendra Mainali (DSP) 4414498
SINDHULI contact CDO Bishnu Prasad Pokhrel 9856057777 OR Deepak Shrestha at 9841348147 
For information on relief camp: 
DASHARATH RANGASHALA in Kathmandu, contact Dipendra Sharma: 9841484335
Government Helpline (1234)  for Foods, Water, Tents, and Blood
Nepal Earthquake Relief Portal from National Information Technology Center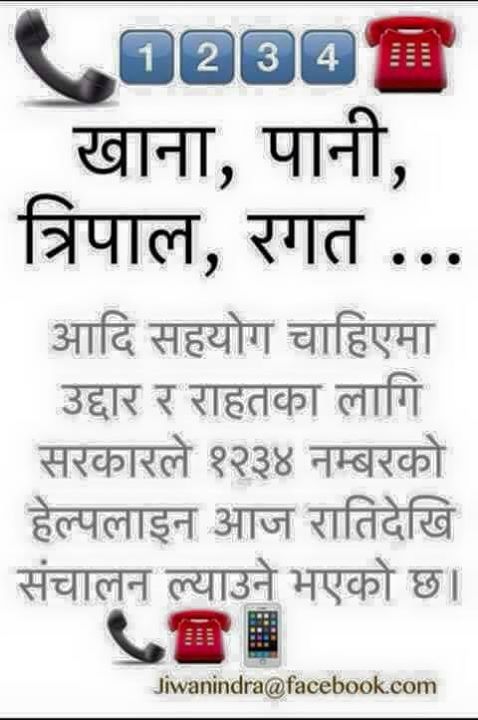 List of Hospital in Kathmandu and their contact list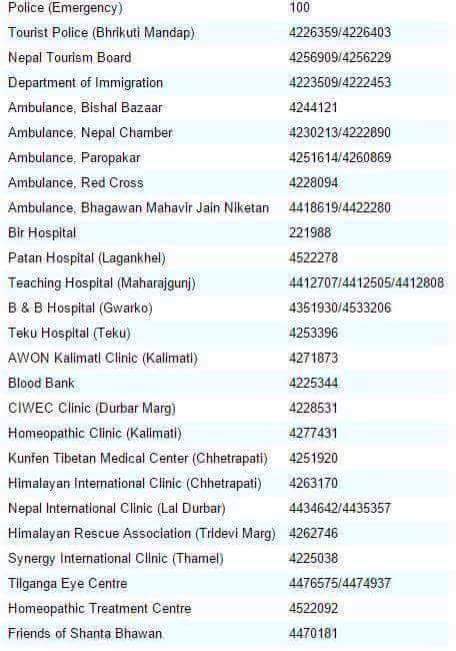 Contact information of CDOs of affected districts and secretaries assigned for relief operation
For Drinking Water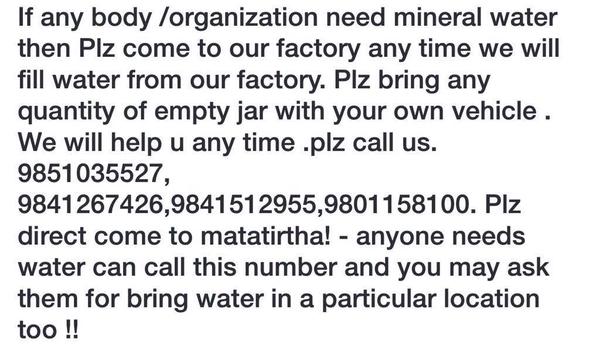 For drinking water supply in KATHMANDU VALLEY Call 014412780 Police Headquarter, Naxal
Secretaries information for Relief Operations outside Kathmandu Valley
 
Official & authentic Twitter handles for Earthquake response in Nepal
National Emergency Operation Centre Nepal website: neoc.gov.np, @NEoCOfficial
Nepal Police Headquarters: @NepalPoliceHQ
Nepal Police Headquarters (Facebook): /NepalPolicePHQ
Brabim Kumar: @Brabimkumar
Association of Youth Organizations Nepal: @AyonNepal
Bibeksheel Nepali: @bibeksheelnp
Nepal Risk Reduction Consortium: @NepalDRR
UNICEF Nepal: @unicef_nepal
UNDP in Nepal: @UNDPNepal
UN in Nepal (Earthquake management & coordination can be reached at [email protected] ): @UN_Nepal
UN Office for the Coordination of Humanitarian Affairs (OCHA) in Asia and the Pacific: @OCHAAsiaPac
Kanak Mani Dixit: @KanakManiDixit
समीरमणि दीक्षित: @smadixit
To join the rescue team or to volunteer for the victim support:
Association of Youth Organizations Nepal (AYON) @AyonNepal: 014248873, 014255388, 9851138181
Bibeksheel Nepali: 9851149214
Shikshya Foundation Nepal, Shikshya Foundation's Facebook
For Nepal Earthquake Relief Effort donate online: Nepal Earthquake Relief Fund : Prabal Gurung & Shikshya Foundation Nepal
Help Nepal Network:
Donate Online: Here OR
Bank Name: Nepal Bangladesh Bank
Account Name: HELP NEPAL Network
Account No: 043952P
Account type: Current
Prime Minister Disaster Relief Fund: 
To know about the INGOs Responding to Nepal Earthquake click INGOs List
How to connect to Nepal
Free calls to and from Nepal via
Social Media Links
What 5million+ tweets about Nepal's largest disaster say:
During the first 3 days of the Nepal Earthquake catastrophic event, we recorded a massive 3.5 million tweets, thanks to Twitter API and Google Cloud API that we could sustain the archive of #NepalEarthquake.
Certain keywords trended in Twitter at various duration and even multiple times. Popular and trending twitter hashtags and keywords include #NepalEarthquake, #NepalQuake, Pokhara, Kathmandu, PM Nepal, Nepal Earthquake and Nepal relief.
We have tailored Twitters to reflect #NepalEarthquake OR #Nepal OR #NepalQuake OR #EarthquakeInNepal OR #Kathmandu OR #NepalRelief OR नेपाल – get insight of Nepal's disastrous Earthquake.
Tweets about #NepalEarthquake OR #Nepal OR #NepalQuake OR #EarthquakeInNepal OR #Kathmandu OR #NepalRelief
Press release from the Government, Home Ministry regarding Earthquake.