Few but really useful shortcuts for frequently used applications in your Windows machine could save you tonnes of seconds in better computing environment. Did you ever want to safely remove your pen drive in just a click? or do you want to access your hotmail postbox right after a click on the apt shortcut? Even you can share your Remote Desktop Connection experience in just a single click of your mouse? Learn to create and use one click shortcuts on your Windows' desktop.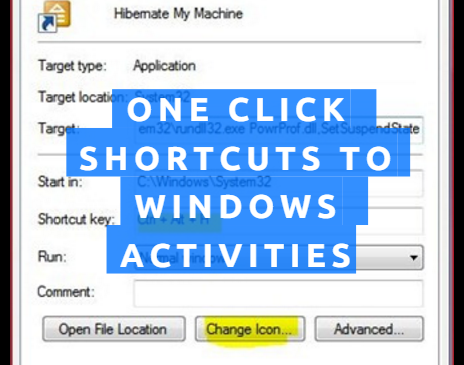 Before we begin, here is a suggested reading on how to make essential preparation for a number of shortcut icons on your desktop. In a fast-fury, keep yourself easy going with creating a shortcut by right clicking (context menu) on the desktop, and be ready to enter the location for each action item mentioned below. (A complete visual guide and a video is available in our earlier post.)
1. Creating a Windows Desktop shortcut to Shared Folders
The shortcut link (.lnk) to Shared Folders Properties opens in Microsoft Management Console, the target type is Microsoft Common Console Document (System 32).
Enter the following shortcut/destination URL in the target field and save with an appropriate name on the desktop. (C: is the system folder)
 C:/Windows/System32/fsmgmt.msc
This might require you to have administrative rights, the target is the System 32 application (Share Creation Wizard). On clicking the Create Shared Folder icon, you will be welcomed with a wizard that helps you share a computer folder so that it can be accessed by people on other computers in your network or workgroup. Windows Firewall will be set up to allow this folder to be shared with other computers.
 C:/Windows/System32/shrpubw.exe
3. Create a desktop shortcut to Hotmail Postbox (Create a shortcut directly to your Hotmail email account on your desktop)
This shortcut (.lnk) is connected to the Windows host process (Rundll32) which executes the application on System 32 to open the web based Windows Hotmail Mailbox directly. Please, enter the following shortcut.
C:/Windows/System32/rundll32.exe "C:Program Files/Internet Explorer/hmmapi.dll",OpenInboxHandler
4. Safely Remove your removable hardware like pen drive, external drive by clicking a shortcut icon on the desktop (Create a shortcut of "Remove removable storage device safely" on your desktop)
We recommend this shortcut to all of our users. Safely removing a hardware or pen drive using a shortcut desktop icon is a real computing experience.
C:/Windows/System32/rundll32.exe shell32.dll,Control_RunDLL hotplug.dll
5. Creating a Remote Desktop Connection icon on your Windows 7 computer
C:/Windows/System32/mstsc.exe
6. How to hibernate computer with a single click? create a hibernate, sleep, log off, shut down and restart icons on your desktop.
7. Create a shortcut to Lock your Workstation in just a single click from a shortcut icon on your Windows desktop.
8. Shortcut to Windows Find – finds files and folders in your Windows machine, Vista and 7.
C:/Windows/explorer.exe search-ms:
9. Get System information icon on desktop
C:/Windows/System32/cmd.exe /k systeminfo.exe
10. Shortcut icon to Command Prompt in Windows
C:/Windows/System32/cmd.exe
11. Shortcut to System Configuration Utility, the System Configuration Utility automates the routine troubleshooting steps that Microsoft Product Support Services technicians use when diagnosing Windows Configuration issues
C:/Windows/System32/msconfig.exe
12. Windows Memory Diagnostics Tool on the desktop, Memory Diagnostic Tool checks your Computer for memory problems
C:/Windows/System32/MdSched.exe
13. Shortcut to User Account Control settings, User Account Control notifies you before changes are made to your computer that require-administrator level permission. The default UAC setting notifies you when programs try to make changes to your computer, but you can control how often you are notified by UAC by adjusting the settings.
C:/Windows/System32/UserAccountControlSettings.exe
14. Advanced User Accounts Control Panel, sets user accounts and their properties, user passwords and secure logon (Ctrl+Alt+Delete) feature control plus Advanced user management
C:/Windows/System32/Netplwiz.exe
15. Disk Space Cleanup Manager for Windows – enables you to clear your disk off unnecessary files.
C:/Windows/System32/cleanmgr.exe
16. Get MAC address for your Windows laptop from Windows Command Processor
C:/Windows/System32/cmd.exe /k getmac.exe
17. Display Switching among various displays connected to your computer (on laptop or desktop)- easily connect to external display like projectors
C:/Windows/System32/DisplaySwitch.exe
18. Create a shortcut to network connections in your desktop
Share your favorite one click Windows desktop shortcuts and we will feature here. And yes, do not forget to use these awesome useful Windows Keyboard shortcuts as well (fully applicable in Windows 10.)
Useful One-click Shortcuts based Windows Tips & Tricks