Nepalese Startups in the time of national crisis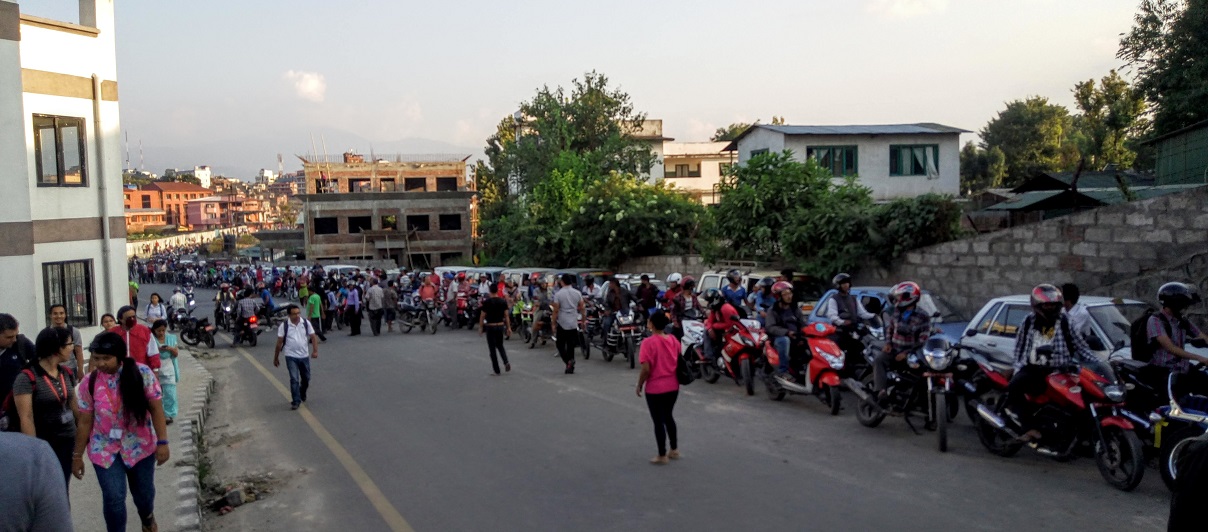 At a time when the festive season is supposed to boost businesses all over the country, the blockade and ongoing Tarai banda have compelled even well-established businesses to cut down on their products and services.
Fuel crisis has not only disrupted transportation, but made production and daily operation of businesses next to impossible. In this context, we talked to a few startup entrepreneurs about the kind of problems they're dealing with, and alternatives they've embraced to deal with the crisis.

Pratik Poudel, Agro Entrepreneur
I run Quest for Progress, the company under which I run a mushroom and a poultry business, where I serve as the Managing Director. As a result of the recent quake, three of my employees lost their houses and one even lost his father. They were all mentally disturbed and it wouldn't be humane of me to make them work during such a time. Moreover, mushroom is a vulnerable species and the tremor pretty much marred them all. Things were eventually coming together and that's when I started my poultry business, too.
However things worsened when India imposed its 'unofficial blockade.' Turns out along with gazillion other things, we also import feeds and vaccines for poultry from our southern neighbor. There are few local suppliers but they are more expensive and also scarcer. Having already spent enough on these products, I'm also paying three times more to transport them. So this period is a difficult ordeal for starters like me.
I believe only a proper diplomatic dialogue among key players will solve this problem. But as entrepreneurs maybe we should start thinking of integrating businesses too. For example, I could integrate maize farming along with poultry farming in order to feed my fowls. I can sell the leftovers with profit, too.
Rabindra Shrestha, Founder and Director Sales, Alpine Coffee
I'm thankful that our business has not been very affected by the blockade. We usually keep stocks of our coffee beans which is the most important component of our business. The heavy machinery is operated by electricity and it's a relief that we haven't had any problems in that department. The only problem we faced was the LPG gas which we need to roast our beans. We have bulk customers—hotels, resorts, exports—and that's going really great. The demand has been coming regularly so we can't afford to stop producing. Just recently, we bought two gas cylinders for Rs 8,000 each. That's not even for stock. Just for daily operation. So we had no choice but to buy them despite the cost. The problem today is that people are willing to pay but there's no stock in the market. Yesterday my staff queued up for fuel but didn't manage to get a single drop in spite of waiting in line for hours. We've been using fuel from my car for deliveries but that's only a temporary solution.
Tenzing Tamang, Project Coordinator, ABARI
ABARI is a design and construction firm, and we primarily use natural materials like bamboo, stones, and adobes. We had started work on two projects—in Nuwakot and Kavre Districts—but the economic blockade is a concern for us. We usually complete a project between four to six months but looking at the state of things today, it will take a few months more to finish our work. The construction materials are all resourced from Nepal but the fuel crisis has raised the cost of materials, especially cement. It costs more to transport to rural areas where we are working. So we will have to delay the major works by a few weeks while we wait and see what happens next. The fluctuating cost is not good for business. In the meanwhile, we will continue with the minor works like pipe clearance.
Pratiksha Adhikari, Director, Nursing Care at Home Pvt Ltd
We provide at-home nursing services to our clients, and the fuel crisis has made it very difficult for our nursing staff to reach our clients on time. It is a big problem because we're taking care of about 25 patients right now, most of whom are geriatric clients living on their own. We've been managing until now by reaching our clients on foot. The nursing staff have been mobilized on the basis of their location and their proximity to that of the clients'. But then we also have patients who've just been discharged from the Intensive Care Unit (ICU) of a hospital, who can only be taken care of by specially trained and experienced nursing staff. Fuel shortage and the subsequent problems of transportation is a big issue then.
We've also been facing problems taking up new cases. Despite having the required manpower and resources, we're required to first consider if the location is feasible to one of our nursing staff before agreeing to provide our service to the new client. This won't create a good impression on our service because at-home nursing is a fairly new concept and people are only recently getting accustomed to it. Walking and hitchhiking is the only alternative we've been employing in this time of crisis, but this definitely is not going to serve us long. I'm just waiting for things to get normal, because queuing up for some liters of fuel is definitely not the solution.
Sita Tamang, Founder, The Candlestick Woman
I used to produce around 20 kilos of candle wax per day using three gas cylinders. Now I just have a little bit of gas left in one cylinder while the other two have been empty for three weeks now. I buy firewood for about Rs 12 per kilo and that's how I'm cooking my meals while using the gas to make candles. These days, I've only been able to produce five to 10 kilos each day. The problems don't stop after I make the candles. I also have to deliver it to my customers and it's another hardship to reach my destination. Often, I have hung on to the bus, walked some way, taken lifts from strangers to deliver the candles. Now that the cylinder is about to be empty, I'm already starting to panic. However, I can't stop working so the solution I have come up with is to use a cooking stove device called Matribhumi Chulo. People who're using it have told me that it works with only two pieces of wood. I have ordered one stove for Rs 3,000. That is my only hope now. But I worry for the day when wood also starts being more expensive. Many people have already started using firewood.
This news article was originally published by Republica during the unannounced Indian blockage to Nepal to depict how several Nepalese startups have managed to survive the national crisis.