Solutions360's Subisu Conclave 2019 discusses pertinent issues for digital transformation in Nepal
The 2nd edition of Solution360 powered Subisu Conclave (2019) has kicked in Kathmandu focusing pertinent issues for digital transformation in Nepal. Continuing from Subisu Conclave 2018 (the first edition), this conference highlighted new technological trends of today and the future. Topics and discussions included words from building own electric car in Nepal by National Innovation Center of Dr Mahabir Pun to QoS of Internet in Nepal and Blockchain in Nepal's banking scenario.
Topics of Subisu Conclave 2019:
Blockchain in CyberSecurity
QoS of Internet
Technology for Secured Society
IoT with AI
National Innovation Center
Future of Data center
Internet and Policy for Digital Transformation
SUBISU Conclave 2019 aims the vision of providing a platform where the industry leader's can meet, exchange, Ideas and discuss the strategies to address these encounters facing by today's ISP/NSP, operators and many more in coming years.
And here is the list of awesome panel discussion topics that Subisu Conclave 2019 saw:
Conclave 2019 saw:
Artificial Intelligence for cloud-based Internet of things (IOT with AI)
Blockchain Technology in Cybersecurity
Quality of Service (QoS) of Internet
Emerging Technologies for Digital Transformation
Raw notes from the event:
Mahabir Pun and his work on the remote villages and contribution to the rural ICT sector. Nepal never had culture on spending for R&D. That's what he learnt in last 25 years. Nepal doesn't commercialize it's own R&D rather buys from outsiders. We as Nepalese never learn that innovation is the growth engine for economical growth.
Nepal Innovation Lab is working on developing /manufacturing electric cars already here in Nepal. R&D provides everything you need to develop at the innovation center; and everyone is welcome to doesn't.
Research lab at Kirtipur
little bit less than one million dollar has been raised so far.
innovation center has unique investment and sustainability plans like starting a software company; developing drinks from ginger and Himalayan herbs; himalayan mineral water;
ten megawatt hydropower station to generate money.
Dr Pun invites every one to be involved with NIC; but he insists on ideas and only comes money later.
Herdip Singh: nokia
Technology trends of the past vs today's and tomorrow's tepromises
Promising Technologies Trends, 5G, Industrial IoT for redefining customer expections.
From Web 1.0 e-Commerce to Web 2.0 cloud mobile to Big data, analytics, virtualization; and IoT Smart machines to today's Artifical Intelligence
Possible yearly economic impact of IoT applications in cities in 2025 : $1.6 trio
Digital service providers has window of time to enrich and monetize an experience of tommorw's promising technologies trends.
HW miniaturization and cost reduction
Startup culture enables disruptive innovation; growth of cloud storage and processing capabilities and resources.
also highlighted jugads of technological use cases in Nepal and India; but what matters ia an ecosystem for a smarter city and smart things.
digital transformational impact on almost all sectors using IoT and AIT.
tangible benefits should come out of uses cases and business cases using newer technologies otherwise such technology would be limited to theory only.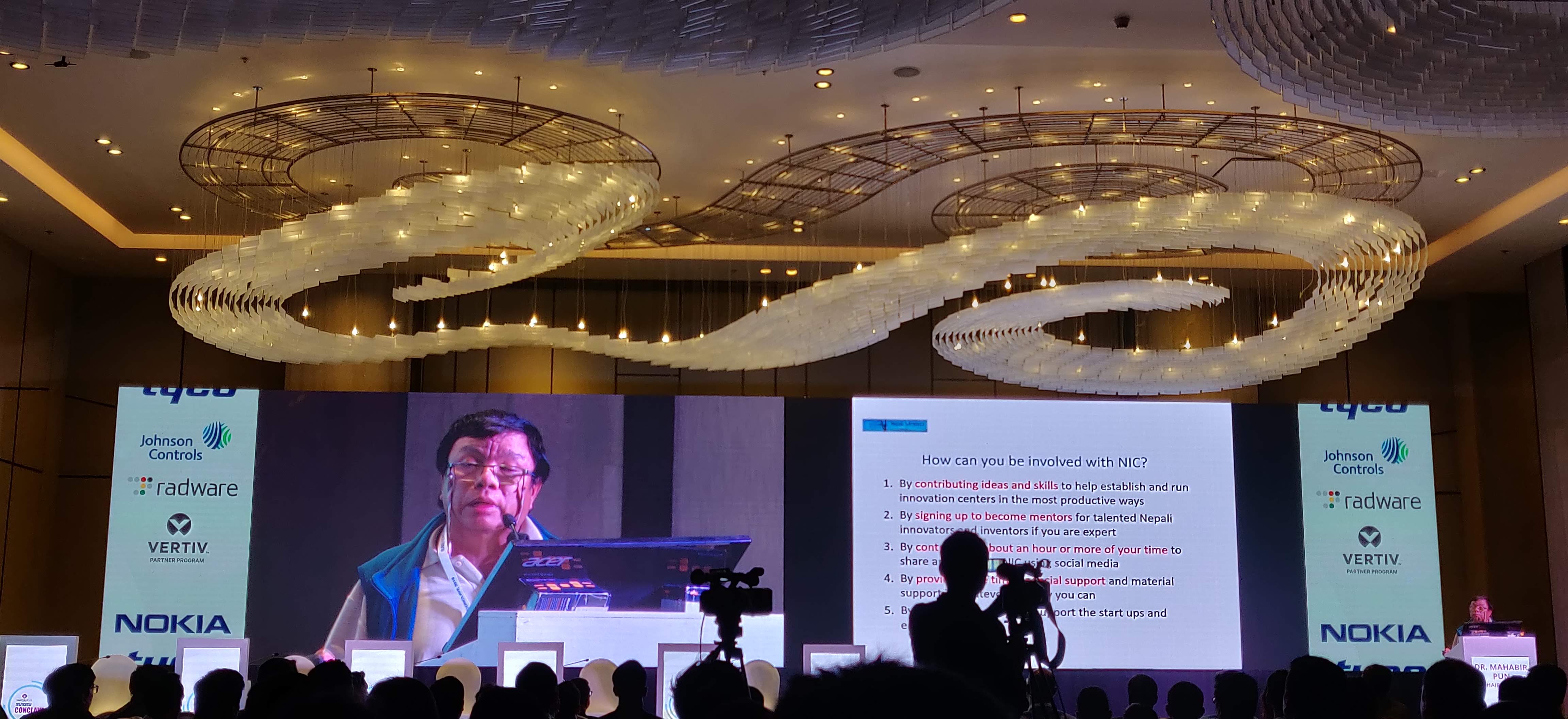 Panel Discussion on IoT
pari, ginger robots from paila
How do you define QoS in Internet?
Positive service
Negative service
Nepal's most of the bandwidth is consumed by video service.
Internet is just the best effort service; guaranteeing is just superficial.
Internet QoS if to be guaranteed for end-user home-users, the cost of Internet is going to increase. It's a free market, hence Nepalese internet users can switch from one ISP to another.
Hoping for BMW and paying for Suzuki Maruti – scenario from service providers. But the marketing gimmicks tell things differently. There is no internet means slow internet and the vice versa.
Digital landscape of Nepal
Currently, Digital Nepal framework is being constructed, says Manohar Kumar Bhattarai, former Vice-Chair, High Level Commission for Information Technology (HLCIT).
We are seeing rising connectivity footprint (skewed more in favor of urban areas)
Public sector slowly waking up to the potentials of ICT/digital infra. However, the government's adoption to the ICT is sluggish. Super sluggish.
Coherent national strategy on Nepal's ICT/digital journey is still lacking. Policy congruence (like digital payment gateway is nowhere)
Political and bureaucratice commitment far too inadequate wrt trnsformation potentials.
Transformation is not change. It is a different context of overly changing the face of framework.
Meaningful impact of ICTs in socio-economic landscapre is yet to be seen.
We need to rethink of approach and strategies.
Transition from ICT to digital mind set.
Examples of
SERIES OF PICTURES/….
Digital
Everything smart.
Industry 4.0
Nepal's Readiness
cashless, paperless, presenceless, consent layer
Data is new oil.
Transformation = digital capability + leadership capability (What and how)
Digital transformation comes from commitment NOT from a single leader or just a couple of government staffs alone.
Nepal specific challenges of digital transformation
Driving innovation around emerging technologies? Use cases?
Political commitment?
Socio-economic structural issues?
Existing and emerging technologies do offer real prospects for transformation but, are we ready for the digital transformation in Nepal?
Geek activist: for the geek, by the geek, of the geek
lot of washing: whatever IT is digital – this is washing.
IT is a strategy of the business.
Digital is not an extension of IT. Digital is how business is gonna transform.
Just a few segments have been digitized in Nepal.
Jusst 3% of the economy is online or digital that is contributed by online payment processors and gateways like eSewa and Khalti. 97% of the economy is still cash based. (Bishwas Dhakal)
changing e- to digital; what has changed in Nepal just by prefix of e- vs digital. (Binod Dhakal, Chairperson ICT Development Committee, FNCCI, IPP, FCAN)

Government should invest heavily on ICT infra; private companies can't do that. But private companies can be enablers and educators.
When will "digital" skip from paper thing to real tangible digital thing?
Annual ICT Index of ITU, Nepal on 140th rank.
Challenge is on implementation due to demography and geography. Service providers not going to rural is a current challenge from the government prospective. (Min Prasad Aryal, Director NTA)
Connectivity part readiness, digital skills
Technology transformation (private sector expertised) + maximum usage of digital platform (government has null presence).
Trade deficit in digital scenario in Nepal just like any other business field.
PPT (People, Process, Technology): we are not looking at ways of creatin new market; wbut the biter readlity is we even can't adopt to the framework we developed few decades ago.
Volkswagen "texting during driving" commercial.
Nepal Government now understands that there is a thing called ICT in the country. Everyone else is talking about it, so government is concerned about it, Googling it what is ICT?