Nepal Telecom NT Android App Review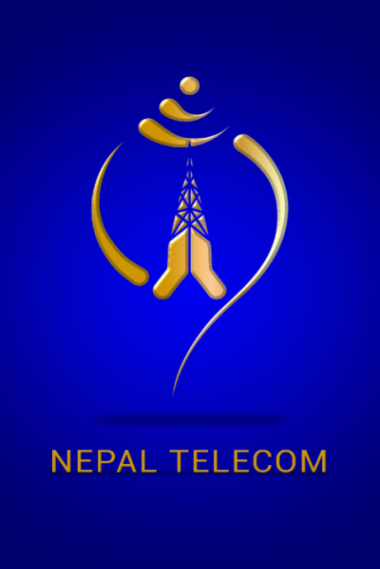 On their 10th anniversary, Nepal Telecom (NT) – the state owned telco service provider has announced the trial of their Android App named "Nepal Telecom" targeting their more than 8 million GSM users (precisely 8,843,260 as of July 2014). This app has been welcomed by a large number of Telecom user who are also Android users. In this review, we look into the features and service provided by this "Nepal Telecom" Android App.
Nepal Telecom (NT) Mobile App has some of the GSM mobile service related features that are available to NT's GSM subscribers and more features will be added in later version including CDMA related services – the app description in Google Play store.
"Nepal Telecom" Android App lets GSM users
browse thru tariff of various NT services like 3G, ADSL, WiMAX, Pre/Post paid mobile services
query their balance for both GSM Postpaid and GSM Prepaid SIM
transfer balance from one prepaid to another prepaid mobile phone
enable GPRS and/or 3G data services (but doesn't have option for disabling, actually we don't have an easy option for that with NT)
recharge their both prepaid and post paid mobile phone using 13 or 14 digit recharge PIN
Sadly, this app doesn't perform any of these above feature with the cell-tower signalling or interactions (in telco words, handshaking of telco control signals) rather this app is just an m-service; every feature is SMS based.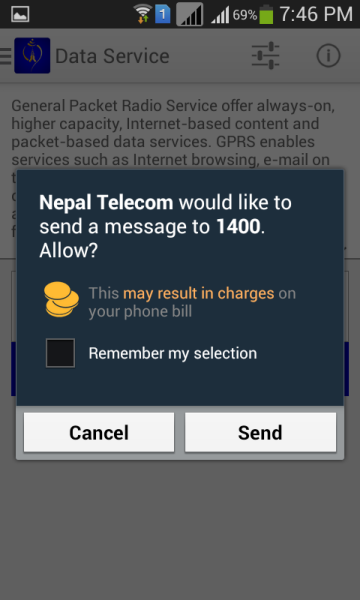 "Nepal Telecom" android app has seen 50k downloads so far and rated 4.0 by approximately 4% of its  downloaders (roughtly 1,911). The App was updated on March 17, 2014. "Nepal Telecom" App is developed by FOCUSONE Nepal for NT. The App has access to handset's contacts, calendar, SMS, phone calls, device ID and call information.
"This app is great but is much less useful because it lacks important features" – what the NT users often remind of the app.
What's Bad
This app fails to detect whether the NT SIM being used is prepaid or postpaid (if SIM cards other than NT used, it gives information as shown in the image here: The app is for Nepal Telecom GSM subscribers only. You can check the tarrif and subscribe to Nepal Telecom.) This gives irritation to users as they have to choose the their phone type for every feature of this app.
The application detects operator "Nepal Telecom"and GSM subscriber type (prepaid or postpaid) and features will be available accordingly. If you are using a dual SIM based Android handset, NT GSM must be used as primary SIM to use this NT App.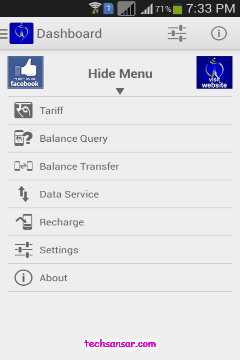 "Nepal Telecom" app doesn't always detect NT SIM cards in wide range of handsets.
Sends SMS without any confirmation to the users. This lacking is pretty much a shame giving a glimpse of unfinished and untested app.
Highly demanded features unavailable: PRBT, online recharge system, billing system, call waiting enabling/disabling features, voice mail retrival.
Pathetically not updated information about tarrif and even information about NTC not available.
Wishlist
More features are everybody's wishlist. However, if Nepal Telecom is really targeting their soon to be 1 crore GSM subscribers in the country with this app to provide self-care customer service, then they should be serious about what features to help every user.
WebSMS (free SMS via the App using Internet/data) or mSMS (free SMS via the App even without data connection)
Payment options. Why not integrate the app to use with F1's own solution gateways? This will allow many users to top up their Telecom GSM phone directly from their own mobile device.
Widget features to allow one click concierge service
How about multiple platforms? Nepalis are into iOS and Windows as well.
So what's in your wishlist to this Nepal Telecom Android App? Download now Nepal Telecom official Android App from the Google play and do share your experience of using it.