How to hack NTC data! This is one of the most asked questions in our Ask page. Forget the twisted way, we can use cheaper wireless Internet from Nepal Telecom. For 10 rupees per hour, we can use NT WiFi hotspot in a connecting device either a smartphone or a tablet or a laptop computer. In this article, we share how to use Nepal Telecom's Wimax based NT WiFi hotspot.
However, download speed or bandwidth of such NT WiFi vary according to user base ie number of users using or sharing the same hotspot with you; and the location of NT WiFi hotspot location or BTS.
Using NT WiFi Hotspot is very easy – all you need is to
be in the location where NT WiFi hotspot is available and
a NT mobile phone number (in Namaste prepaid you need at least 13 rupees.)
How to connect NT WiFi
Provided you have both above points valid, follow the following steps to connect to NT WiFi on your mobile phone or tablet or laptop or even wireless card-enabled computer machine.
Search for WiFi hotspot name (also called AP or SSID), if you see NT WiFi connect to it.
After sometime (on the background you will be assigned a local IP address to identify your device) you will be automatically redirected to the default web browser if not you should open your web browser say Google Chrome in Android, Internet Explorer in Windows 8.x and Safari in iOS devices.
You are asked to enter username and password to login to the web portal just opened in your default web browser.
NT WiFi Password: Send a blank text message or SMS to 1416. After sometimes you'll get an SMS back from NTC that has NT WiFi hotspot password. Only NT GSM Prepaid and Postpaid users can request the password via texting 1416 number. Not necessarily you need to have your own NTC phone with you as you can request password via your friend or family's NT mobile phone.

Sending SMS to get NT WiFi hotspot password

Now use your mobile phone number and the password to login to the NT WiFi hotspot system. After successful login, 60 minutes meter starts rolling – go ahead open your favorite app or website to use the Internet.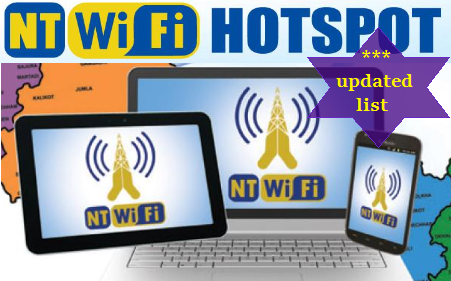 If you want to know locations where NT WiFi Hotspots are available, check our updated list here.
Do note: NT WiFi has access to torrents, NTC's CDN including YouTube caching, NTC's own intranet facilities including services to manage ADSL WiMAX customer self-care center.